Lettobeds
Lettobeds. Quality Beds & More
The modular box spring bed from LETTOBEDS. A top premium quality box spring bed made from the best (circular) materials for a long life and maximum sleeping comfort.
Every LETTOBEDS comes standard with headboard, mattresses, toppers and handy storage compartments for tablets, books or mobile phones.
You put the bed together the way you want. You can start with a basic flat box spring. At any time you can decide to upgrade your LETTOBEDS and even change it in terms of appearance, color and comfort.
A flat box spring becomes electrically adjustable including remote control. A glass of water, alarm clock, newspaper or book now has a permanent place on adjustable bed tables, but it can be even crazier.
The back wall of the headboard changes from flat to modern stripe design, luxury cushions, diamond motif with sewn-in, chic buttons or a hip, oversized full-width cushion.
The color can be changed at any time in all colors of the rainbow. Ideal when you need change. Your box spring simply changes with you. Always and only when you want.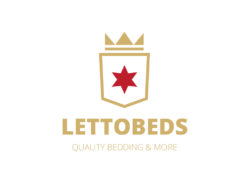 Lettobeds.com
Via De Marina 16
Genova, San Benigno
Italy